Porcelain Veneers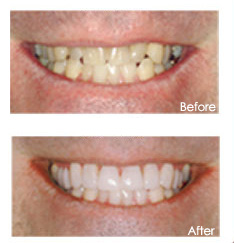 Even a subtle change in your smile can make a dramatic difference in the way you look, feel and how you are socially perceived!
Dental Veneers are an excellent cosmetic solution for a variety of dental conditions that affect the appearance of the front teeth. Durable and color-stable, veneers are the perfect way to restore the natural function and beauty of your teeth so you can smile with confidence!
If you are ready to instantly straighten crooked teeth, restore chipped or broken teeth and have a dazzling white smile, then you are an excellent candidate for Dr. Thompson & Christensen.
Before creating your customized smile, Drs. Thompson & Christensen will meet with you to determine your smile goals. They involve you in every step of the process. When crafting your ideal smile, Drs. Thompson & Christensen consider your face shape, coloring, bite, gum health, and many other factors that will keep your veneers looking brilliant, natural and healthy for years to come.
The Facts about Dental Veneers
Veneers, usually fabricated from porcelain, are a thin, semi-translucent, "shell", custom made to fit precisely over an existing tooth. They are permanently bonded, held in place by a special resin that adheres the back of the veneer to the front of the tooth. The finished result is extremely strong and durable. Though veneers are not suitable for every patient, they are a cosmetic alternative for a variety of dental conditions affecting the front teeth, including:
closing diastemas (spaces between the teeth)
restoring broken or chipped teeth
covering unsightly, stained or discolored teeth
correcting uneven or crooked teeth
How Are Veneers Different from Fillings or Crowns?
A composite resin filling is used when only a small amount of tooth structure needs replacing or repair. A full crown is used when a tooth has had a root canal treatment or when a substantial amount of the entire tooth structure (enamel) has been lost. A porcelain veneer is used when a portion of the front surface of a tooth needs a "face lift."